AUTOMATIC DISC CUTTING LINES A UNIQUE PARTNER FOR A COMPLETE KNOW HOW

Saronni, global leader in the production of coil feeding lines, has recently acquired the rights and the know-how of the ELMA company for the design, production and supply of the automatic discs cutting machines model ETD. Saronni will be the reference point for customers who need to produce discs from metal sheet starting from coils in automatic, flexible and precise way. The fusion of the two technologies, coil lines and disc cutting machines, allows the supply of the complete systems entirely designed and built by a single company, capable of performing turn-key supplies.
ONE SUPPLIER OF COMPLETE TURN-KEYS LINE
ONE PLAYER PRE-POST SALES FOR ENTIRE LINE

AUTOMATIC DISC CUTTING LINE ELMA MODEL
COMPOSITION
THREADING DEVICE TO INTRODUCE THE COIL HEAD IN THE STRAIGHTENER
COMBINED STRAIGHTENER-FEEDER OR SEPARETED STRAIGHTENER AND FEEDER WITH LOOP
ZIG-ZAG DISCS CUTTING MACHINE WITH CIRCULAR BLADES AND ARM FOR AUTOMATIC DISCS DISCHARGING
HYDRAULIC SHEAR FOR SCRAP CUTTING
ARM FOR AUTOMATIC DISCS DISCHARGING
DISCS EXIT CONVEYOR BELT WITH MARKING UNIT-IF REQUIRED
DOUBLE OR MORE POSITION DISCS STACKER
PULLER FOR AUTOMATIC SCRAP EXTRACTION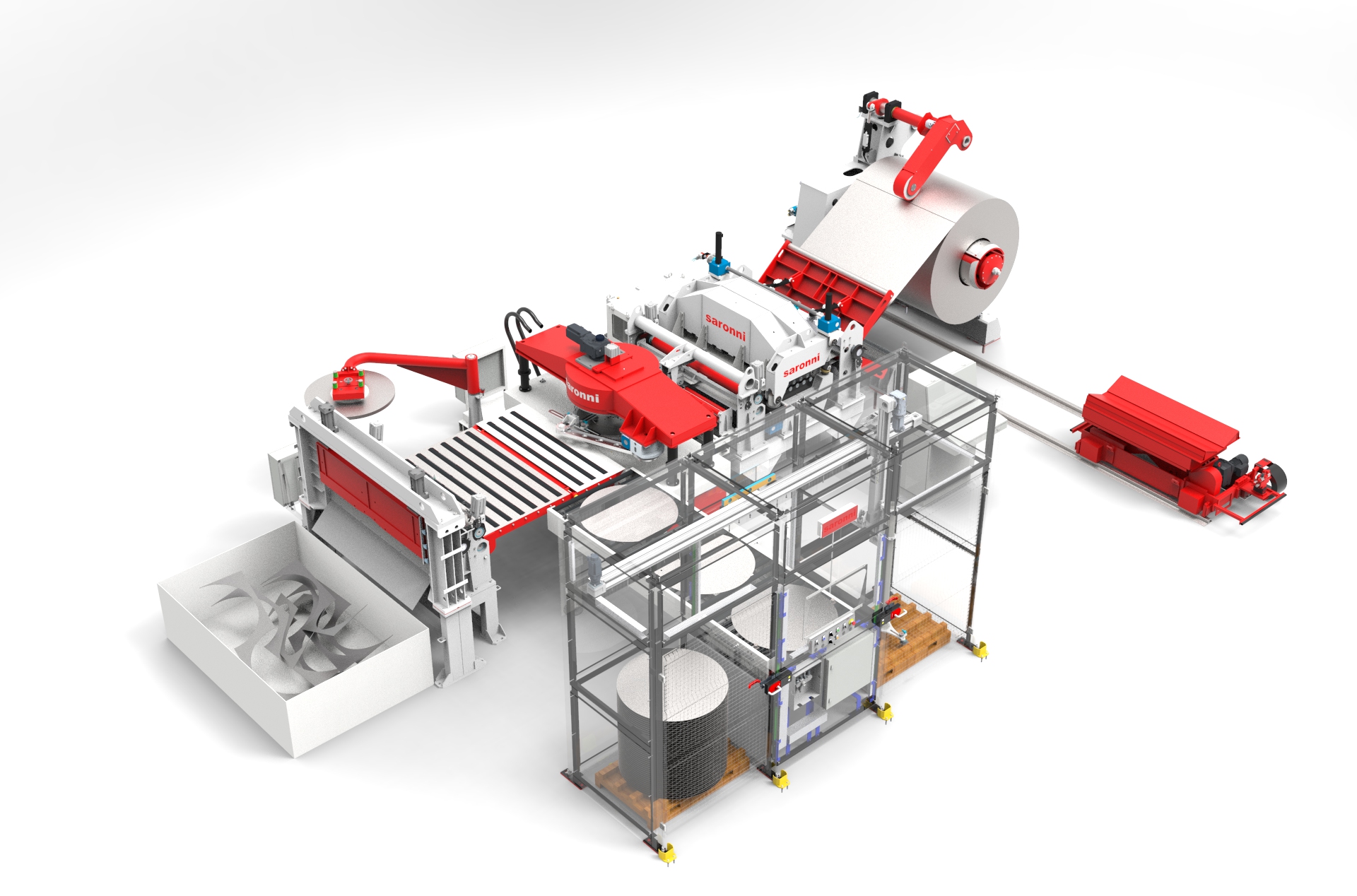 WHY CHOOSE AN ELMA BY SARONNI DISK CUTTING MACHINE?
CUT WITHOUT BURRS AND EDGES HARDENING
INNOVATIVE TECHNICAL SOLUTIONS
EXPERIENCE TEST CENTER AT CUSTOMER'S DISPOSAL
turnkey from ONE GLOBAL supplier

To change the diameter of the discs to be produced, simply set the blades
discs are produced without the need of dies
the zig zag allows a material saving (scrap) up to 15%
GET TO KNOW SARONNI
For 70 years one of the world leaders in the production of press feeding and cutting lines formed by coils.
COMPLETE LINE
Wide range of "turnkey" lines with particular attention to customization and technological innovation.